When the pool is not covered and cleaned, many organisms and small particles of dirt will interfere with your pool. This will lead to the growth of algae and bacteria that affects the health of swimmers. 
It is essential to clean your pool regularly to prevent your swimming pool from contamination and water loss. The brush is a common primary tool and has different functions. But choosing the best brush for your pool is difficult because of how comprehensive your options are.
Now, here are the different kinds of highly recommended brushes to give you an idea of what brush fits your swimming pool.
Wall Whale Algae Pool Brush(Best Overall)
The Wall Whale Algae Pool Brush is the classic and best pool brush you can find in the market. It is best in removing algae from your swimming pool. 
This brush has a unique tail that provides downforce on the surface when brushing. Most people find this tool brush the cheapest but easiest tool for brushing their pool manually.
Moreover, this model brush is applicable in any pole, especially on the grip sides of the pool. Also, you can choose your own brush that will make you comfortable and satisfied when using it.
But there is one thing that you need to know about. You cannot use this brush in cleaning steps on your pool.
Blue Devil Wall Pool Brush(Best Value)
This Blue Devil Wall Pool Brush is a good choice for buyers looking for a lower price but with good quality. This brush comes with a metal-reinforced frame. It makes the brush last a long time, and is a better model than any other brushes. 
Additionally, this pool brush is compatible with any pole. Plus when it comes to sizes, it has a bigger width that you may be able to clean your pool in fewer strokes.
Moreover, it has great value, and if you're looking for a splendid cleaning performance with excellent quality and a lower price, you will not be discouraged with this model. However, this brush is not recommended in cleaning rounded shape areas.
Milliard Hybrid Pool Brushes (Best Pool Wire Brush)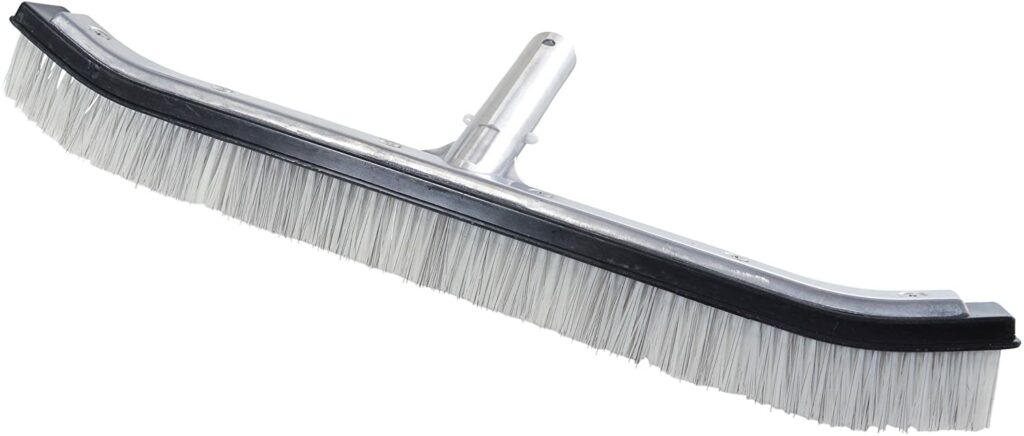 The Milliard Hybrid Pool Brush is designed for people who need the power of a wire brush but with a weight of a soft nylon pool brush. 
This brush comes with wire and nylon tips. It gives excellent cleaning performance comparable to nylon brushes but lighter and softer than full wire brushes.
In terms of size, it comes in 18 inches in width that allows you to cover the area very quickly when cleaning. Also, it comes with curved edges, which gives you a better result in cleaning around curves and corners.
However, there are some situations where you cannot use this model because of its wire bristles. It is not suitable for vinyl liners and is not ideal for saltwater pools.
The Milliards seems to deteriorate when it is used in saltwater pools. Generally, this is a good model brush, but it cannot be considered in all kinds of pools, although the price is not that high.
Poolmaster Algae Pool Brush (Best For Algae Removal)
If you have a pool with bad algae pool stains that other brushes cannot remove, it is recommended that you use the Poolmaskter Algae Pool Brush. This brush comes with steel bristles, which have the strongest cleaning material and has a wide width of 18 inches.
From this, you may be able to clean the whole surface of your pool very fast and effectively compared to other designs. Additionally, it comes with an aluminum reinforced frame which is both powerful and light and helps give balance to the heavier bristles on this model.
However, you cannot use this brush on a vinyl pool or fiberglass surfaces as you might scratch your pool if you forcibly brush it. Plus, you will possibly damage the brush, which is challenging to deal with.
Aside from this, you cannot use this brush on the soft finishes of your pool. It does not mean that this kind of brush is not effective in cleaning your pool, but this model is very useful in limited situations.
Aquatic Pro Pool-Brush Head (Lowest Price)
The Aquatic Pro Pool Brush is the cheapest model you can see. This model comes with a metal reinforced frame or aluminum which is durable and has a consistent weight comparable to some other models. 
It also comes with 18 inches of width so that you can work your pool in fewer strokes than with narrow brushes. Also, it has curved edges, which allow you to clean your pool surface and even the corners of the pool.
However, this is not advisable to pool owners who wish to clean around the curves of their pool due to its bristles that cannot reach the other gap surface of the pool like other models. Plus, this brush has shedding issues that add to your cleaning tasks.
Daveyspa Swimming Pool Brush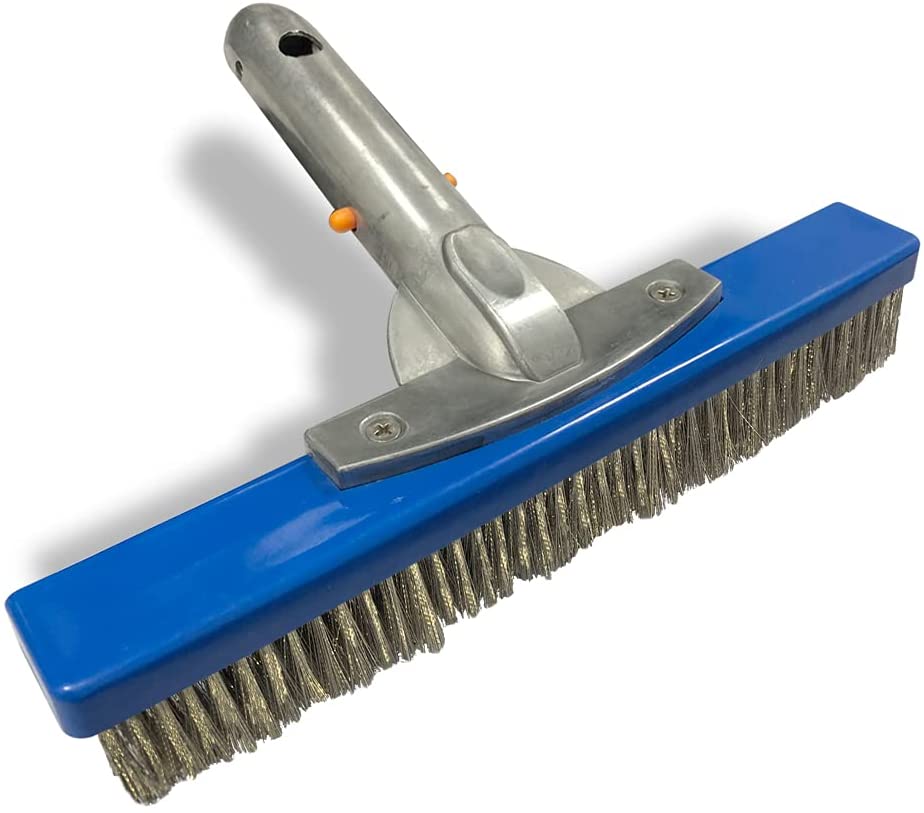 This next brush is one of the lightest full-sized pool brushes. The Daveyspa Swimming Pool Brush is also a robust and lightweight brush. However, it is not as strong as metal frames as other models. The bristles work together up to the end of the brush. 
A good thing about this scrub is that both ends are detachable. It makes the brush straight but is shorter than any other model.
Furthermore, the bristles are softer than other brushes. But it is very gentle and light which you will notice and feel while cleaning your floor, and it is very safe since it does not create any scratches on the swimming pool floor.
In addition, due to its soft bristles, you may find it a bit less effective relative to other hard bristles brushes.
Important Reminder
When buying a pool brush, you should consider its durability, quality, and size. Plus, you should also choose the one that can provide you with the cleaning you will need. 
One brush might be effective for other pools but will not be effective for yours because your pool requires a different kind of cleaning. So, use this list as your guide when shopping for a swimming pool brush.