Swimming pools need chlorine to stay sanitized. It is also the best way to control the growth of algae that is plaguing swimming pools. Unfortunately, for many, all trichlor products are the same.
What they don't know is that one is better than the others based on its components. So if you want to know which trichlor product to use in your swimming pool, you might want to check out these names below.
Clorox Pool & Spa Chlorinating Tablets
If you are looking for multi-functional chlorine for your swimming pool, you can check out the Clorox Pool & Spa Chlorinating Tablets. It has been effective in killing invisible algae and all harmful microorganisms present in your swimming pool.
Clorox is made to gradually dissolve to sanitize and protect your swimming pool for a long time. Additionally, Clorox is made with added ingredients like a swimming pool conditioner and other substances. These will help make your swimming pool water smooth to protect its surface and avoid corrosion. 
Unlike other chlorine tablets, you can use Clorox by placing them on the skimmers, floaters, sinkers, and feeders. Thanks to its standard 3-inches in diameter size. If you still do not know which trichlor tablet to use in your pool, you can start with the Clorox Pool & Spa Chlorinating Tablet. Observe and see if you like it. 
Swim Best Swimming Pool Chlorine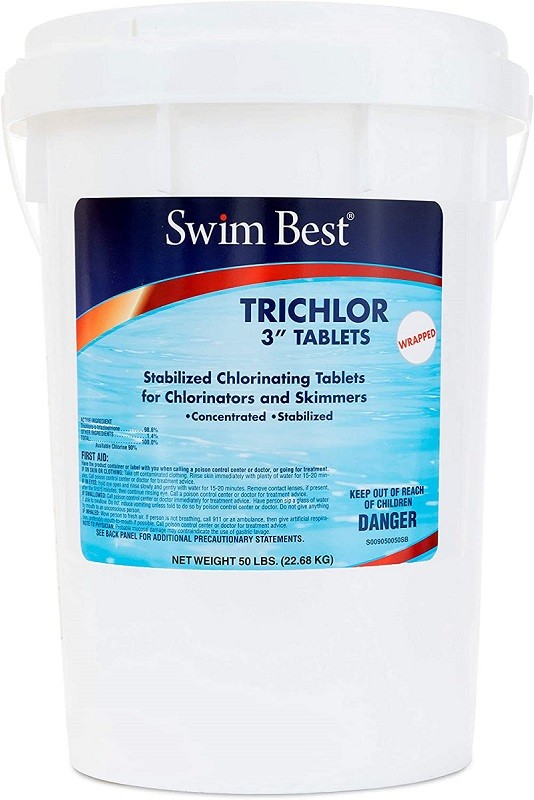 Another trichlor tablet that is worth trying is the Swim Best Swimming Pool Chlorine. If you think the first option won't work for you, try to switch to Swim Best. Like Clorox, Swim Best also has 3-inches chlorine tablets suitable for feeders and skimmers.
The Swim Best Swimming Pool Chlorine originated in the U.S. and is EPA approved, ensuring its safety and effectiveness. The tablets are 99% concentrated trichlor and 90% stabilized chlorine which is also made to dissolve in the water slowly.
If you do not want to be stressed in maintaining your swimming pool sanitation, you can start adding Swim Best chlorine tablets in your swimming pool and be confident that you and your family are protected.
In the Swim Chlorine Tablets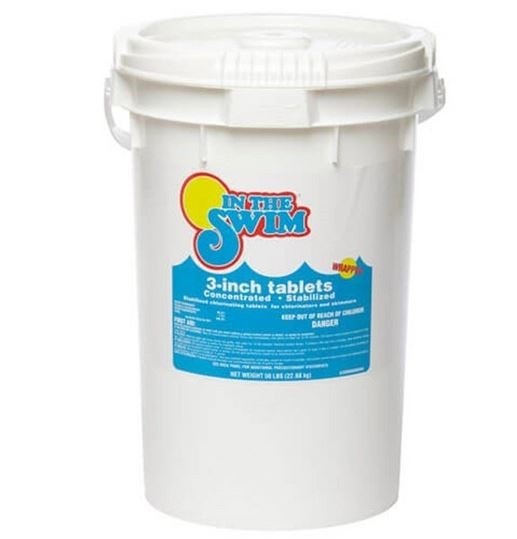 Another great trichlor product you can rely on is the In The Swim Chlorine Tablet. If you want to maintain the safety and health of your swimming pool, try using the In The Swim Chlorine Tablets. It is thicker than other chlorine tablets in the market.
Because the tablet is thick, dissolves slower, and stays in your pool for an extended period, this chlorine tablet is made 90% of stabilized chlorine. It also has 99% trichlor.
Another best feature of this chlorine tablet is that it is safely packed on an easy-to-open bucket with a child-proof lid to ensure that children won't access the chlorine tablets. However, it is still best to store your chlorine tablets and other pool chemicals in a safe storage place and away from children and pets.
Kem-Tek 1-Inch Chlorinating Tablets
For a solid and stable chlorine balance for your pool, you might want to try Kem-Tek chlorinating tablets. These tablets are made to provide a lasting effect on your swimming pool. The Kem-tek chlorinating tablets are suitable for all swimming pool types.
This is also best for above-ground pools and pop-up swimming pools. Thus, you will never have to worry about sanitizing your swimming pool before using it, whether a pop-up, above-ground, or in-ground swimming pool.
If you want to use smaller chlorine tablets, it is best to choose the Kem-Tecl 1-inch Chlorinating Tablets. These small tablets are manufactured to be crumble-resistant for easier use and dispensing on various chlorine feeders.
Clorox 1-Inch Chlorine Tablet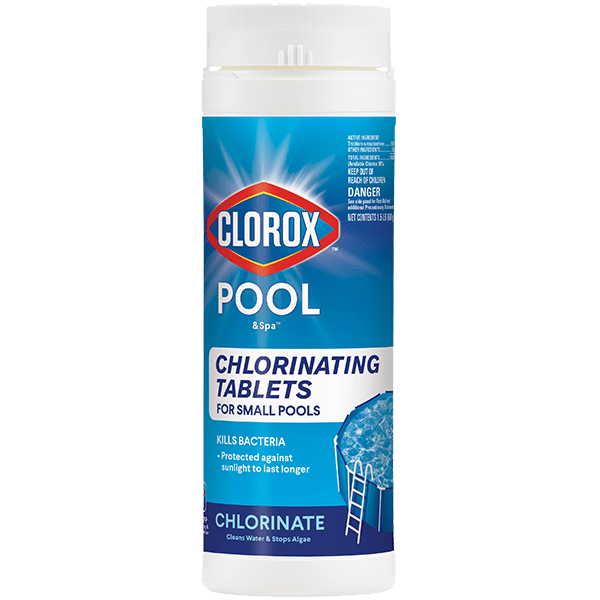 Clorox also manufactured a smaller version of chlorine tablets with a size of 1-in diameter made for swimming pools with 5,000 gallons of water and less. When using any chlorine tablets this small, you will need to use a chlorine dispenser to help distribute chlorine in the pool water.
Avoid putting them in your skimmer and should only be used on smaller swimming pools. Keep the container's lid tight and secure after each use to avoid being exposed to the humidity and getting damaged. Each tablet is not packed individually, which is why you should always secure the container.
The Clorox 1-inch chlorine tablet is the perfect trichlor product if you look for chlorine that works excellent in sanitizing and killing the algae in your pool. It is long-lasting and has an excellent absorption rate.
What to Look For in a Trichlor
When choosing a trichlor to use in your pool, you must consider the following factors to ensure that you are only choosing the best.
Type
Many types of chlorine tablets are available in the market, making choosing a challenging task. When shopping for chlorine tablets, you will see types of chlorine such as sodium hypochlorite, lithium hypochlorite, dichlor, trichlor, and calcium hypochlorite.
Sodium hypochloride is best if your pool's filtration system is experiencing high calcium hardness. The downside of this option is that it only has 10% to 12% chlorine.
Lithium hypochlorite can be used if your swimming pool chemicals need to be balanced. It has 28% to 35% of chlorine content which is higher compared to sodium hypochlorite. It is non-stabilized chlorine.
Dichlor is another option of chlorine you will find when you go chlorine shopping. It has an added ingredient, cyanuric acid, which stabilizes chlorine treatment and slows down the breakdown of chlorine in the pool water.
Trichlor is the next type of chlorine and is the most used of them all. It has 90% chlorine which is the highest amongst all the chlorine available. It is also a stabilized chlorine that easily dissolves in the pool water and doesn't degrade under direct UV easily.
Last but not least is calcium hypochlorite. This option is more effective than sodium hypochlorite and lithium hypochlorite and has 65% chlorine.
Size
The next thing you should consider when choosing chlorine for your swimming pool, you should consider what size you will need. Chlorine tablets are manufactured in different sizes. The most common sizes you can find are 1-inch and 3-inches in diameter.
If you have smaller pools that hold 5,000 gallons of water or less, it is best to use the smaller 1-inch chlorine tablets. For bigger swimming pools that hold 5,000 gallons of water and above, you should opt to use the 3-inch in diameter chlorine tablets.
Dissolving Speed
The next thing you should look for when buying a chlorine tablet is the dissolving speed. When checking for the dissolving speed of the chlorine tablet, never rely on the product information alone.
Remember that bigger chlorine tablets take longer to dissolve while the smaller tablets will dissolve much faster.
Bottom Line
Now that you have a list of the top swimming pool chlorine tablets choose which suits your needs best. Consider your pool size and your preferred type of pool when picking chlorine for your pool.