Polymers in pool clarifiers function as coagulants on suspended particles in the water. Clarifiers, in particular, introduce cations or positively charged ions into the pool, which attract negatively charged suspended material.
There are so many clarifiers available in the market today. This makes it hard for pool owners to choose which one they should use on their swimming pool. To help you decide, here are the top 7 pool clarifiers that you should check out and consider for your swimming pool. 
Tidal Vision Crystal Clarity Pool Clarifier

If you want to remove the hazy appearance from your pool water but don't want to add any more harsh and toxic chemicals, the Tidal Vision Crystal Clarity Pool Clarifier is an option to consider. It is 100% biodegradable and safe for the environment because it is non-toxic and contains no added dyes or fragrances.
The Tidal Vision is also one of the most concentrated pool clarifiers in the market today. It is why it clears your pool water quickly. In just a few hours, you will start to see the result which is crystal clear and healthy-looking pool water. 
However, if you use too much of this clarifier, you may accidentally turn the water green, so be careful to follow the instructions cautiously. The Tidal Vision Pool Clarifier is our top recommendation due to its quick and effective performance combined with an affordable price.
Clorox Pool & Spa Super Concentrated Pool Water Clarifier
The next pool clarifier that we highly recommend is the Clorox Pool & Spa Super Concentrated Pool Water Clarifier. As the name suggests, this product is highly concentrated which means that it can also quickly clear out any murky appearances on your swimming pool. The formula combines all the tiny particles that are making your pool water murky. 
Once combined, they become larger particles that can be easily filtered by your swimming pool filtration system. To see results, only 1 ounce of product is required for every 5000 gallons of water.
This product is also favored by many pool owners because of the fact that no dilution is required. Simply apply slowly around the deep end of your pool and leave the pump running for at least 8 hours.
Robarb R20154 Super Blue Clarifier

Robarb's Super Blue Clarifier was another standout performer in transforming cloudy, murky pool water into perfectly clear swimming water. You will never have to worry about using the Robarb R20154 Super Blue Clarifier as it effectively removed all small particles and sediment from your pool water without clogging the filter.
Additionally, the product is also simple to use because it works with a wide range of temperatures and chemicals. You didn't even have to change or add anything to your current chemical lineup when using this clarifier.
However, Robarb does not provide a quick result in clearing your pool. You will need to wait about 12 hours for this clarifier to start working and even longer for your pool water to be completely clear. It is why it is recommended to add the product to your swimming pool at night so that you can see the result when you wake up the next day.
BioGuard 100% Biodegradable All Natural Pool Clarifier
Another 100% biodegradable product that is suitable for swimming pool owners that are looking for environmentally-friendly pool clarifiers is the Bioguard All-Natural Pool Clarifier.
It is best to use in a swimming pool with all surface and treatments types. You will only need to add this product to your swimming pool once a week, yet it can still give out clear and sparkling water without overdosing your pool with chemicals. 
The natural ingredient on the BioGuard pool clarifier attracts all the sediment particles in the pool water and removes them. It is also a concentrated type of pool clarifier which means that it can clear out your water quickly. Plus, it is a dye and fragrance-free product that makes it an excellent pool clarifier in general.
High Concentrate SeaKlear Chitosan Natural Pool Clarifier

The fifth on the list is the High Concentrate SeaKlear Chitosan Natural Pool Clarifier. If you are looking for a highly concentrated pool clarifier but on a tight budget, this product is the best for you. SeaKlear have a high concentration at a low price.
It also has an environmentally-friendly formula that makes it best for regular use. You will never have to worry about damaging the environment with this pool clarifier. SeaKlear improves the effectiveness of your swimming pool filter as it gets rid of the oils and scums that naturally make your pool water clear.
You'll appreciate the fact that this best-in-class pool clarifier clears cloudy water in 24 hours. It is ideal for both freshwater and saltwater pools. Thus making it an overall, fantastic choice.
CrystalClear OneFix High Concentrate Natural Pool Water Clarifier
Your swimming might already be full of harsh chemicals. So, you would want to use a pool clarifier that is made with all-natural ingredients to clear out the haze of your swimming pool without adding up to the chemicals that are already brimming on your pool water.
Imagine the chlorine you added to kill the bacteria of the pool, the muriatic acid, or the soda ash to balance your pool's pH level. Not to mention the pool conditioner you added on the list of the chemicals you are using for your pool to make the water feel nice on your skin when swimming.
With all of what is going on with your swimming pool, adding another chemical to clear up the haze on your pool water can be so excessive. It is why you should consider using the CrystalClear OneFix High Concentrate Pool Water Clarifier.
HTH 67023 Super Clarifier Swimming Pool Cleaner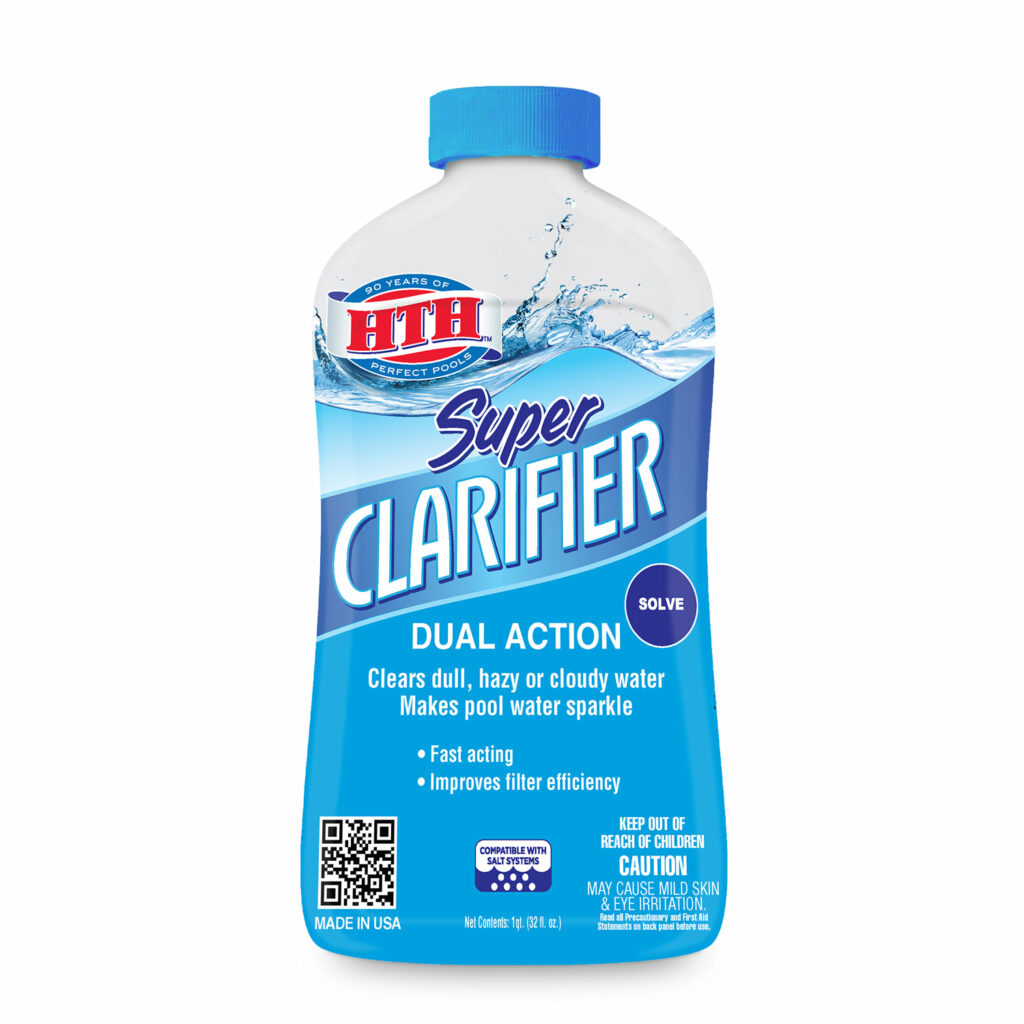 Last but not least is the HTH 67023 Super Clarifier Swimming Pool Cleaner. This product does not only clear up your murky pool water. It also kills and prevents all algae varieties in your swimming pool. This includes green, black, and mustard algae, so you can enjoy your summertime fun.
This product is best for vinyl swimming pools and saltwater pools. You can add it to your pool directly for a straightforward application and cleaning of the water. It uses a non-foaming algaecide method that destroys algae fast for crystal clear water.
It also quickly dissolves and won't fade vinyl liners. You can also safely use your swimming pool 15 minutes after you add the product to your pool water. 
If you want to use one of these pool clarifiers it is best to inform your pool service chandler to use your preferred pool clarifier.
In Conclusion
Your swimming pool water should not only be clean and bacteria-free by adding chlorine. It should also look and feel clean when you use the pool. If you want to achieve crystal clear water like what you see on five-start resorts, start using a pool clarifier on your pool. However, you should choose one of the seven mentioned products. This way you experience a satisfying result. 
Interested in a free quote and you live in Chandler, Gilbert, Queen Creek, Mesa, or Tempe please contact Aloha Desert Pools at 480-625-8794 or email us!