Recently, many people have chosen to upgrade to a variable speed pool pump. The popularity of the variable speed pool pump does not come as a surprise. The pool pump acts as the heart of your swimming pool. It pumps the water in circulation to clean it.
A variable speed pool pump is the most versatile pool pump available in the market today. This is the main reason that many people choose to upgrade to this type of pool pump. 
However, other factors affect why people are willing to spend more upfront to upgrade to a variable speed pool pump. Here are some of the factors that affect a pool owner's decision to upgrade to a variable speed pool pump.
If Your Utility Bills Are Getting Bigger
If you are having a problem with your utility bills lately, whether because of a loss of income or an additional expense that comes up, upgrading your pool pump can help you solve these problems.
A variable speed pool pump might be expensive upfront, but the savings you can have over time is unparalleled. In addition, it is the only pool pump available in the market that is versatile. Imagine, you can set multiple run schedules to make sure that the pump will only turn on when it is necessary. 
In return, you will save more electricity. Additionally, a variable speed pool pump does not need more energy to circulate the water in your swimming pool compared to its counterparts. Because of its modern technology function, a variable speed pool pump will decrease your swimming pool's energy consumption.
When You Can't Handle the Noise Anymore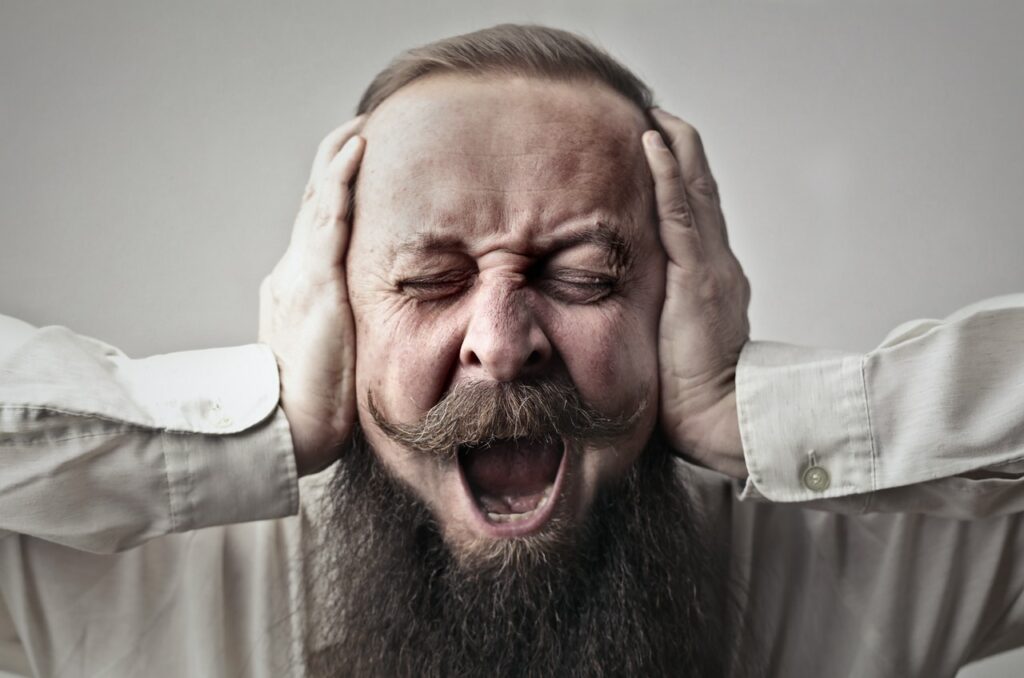 The old technology pool pumps provide a loud and noisy sound when running. This is one reason why many pool owners are not happy with their old pool pump anymore. However, the variable pool pump offers an effective clean while staying quiet. 
Households who have children or newborns often decide to upgrade their pool pump with a variable pool pump because of this reason.
You do not want the pump to run with a noisy sound while you or your child just fell asleep. This will surely ruin the moment. 
Variable Speed Pool Pumps Lasts Long
Variable speed pool pumps are built to last for a long time. Even with constant usage, a variable pool pump can last for a long time. This means that you got the best value for your money. 
Moreover, you will never have to worry about constant repairs and replacing your pool pump if you use the variable speed pump. 
A variable pool pump was designed to have an internal cooling fan that allows the pump to run without overheating. Because of this, the wear and tear of the equipment will be reduced. Thus it lasts longer than the old speed pump designs. 
High-Tech Features
Variable speed pool pumps are equipped with high-tech features that help ease the operation. In the variable pump, you can see buttons and even an LED screen for you to monitor the settings. In addition, it offers pool owners a wide selection of possibilities.
For example, if you are a busy person and do not have the time to turn on your pool pump to run constantly, you can set multiple run time schedules with a variable pump, and the pump will automatically turn on or off. 
And my favorite part about the variable speed pool pump? You can control it using your smartphone. Yes, you read it right. So no matter where you are, you can easily control your pool pump at home with just a few clicks of your fingers. 
Isn't that convenient? This alone is a good reason why you should upgrade to a variable pool pump. 
What Are the Best Variable Speed Pool Pumps in the Market?
If you think that you are one of the people who need to upgrade their pump, you might want to look at these variable speed pool pumps that we highly recommend.
Hayward VS Omni® Variable-Speed Pumps with Smart Pool Control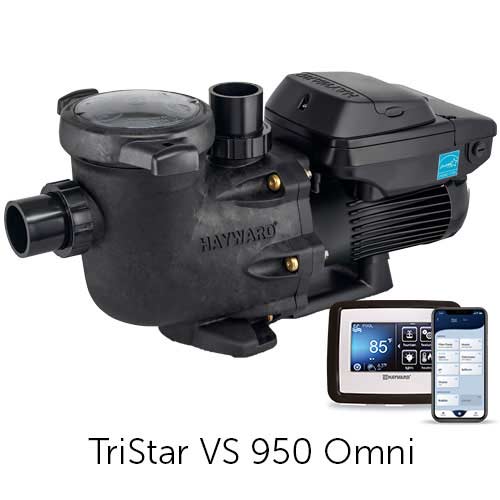 The first on the recommended list is Hayward's VS Omni. This is a great example of the best high-tech feature of a variable speed pool pump. The VS Omni can be connected to your smartphone or tablet and take control wherever you are. 
You can control all pool equipment such as the pump itself, heaters, water features, sanitization, swimming pool lights, and many more. How cool is that? So, if you are looking for a variable speed pool pump with great features, then the Hayward VS Omni is the right one for you.
Pentair IntelliFlo® Variable Speed® High-Performance Pool Pump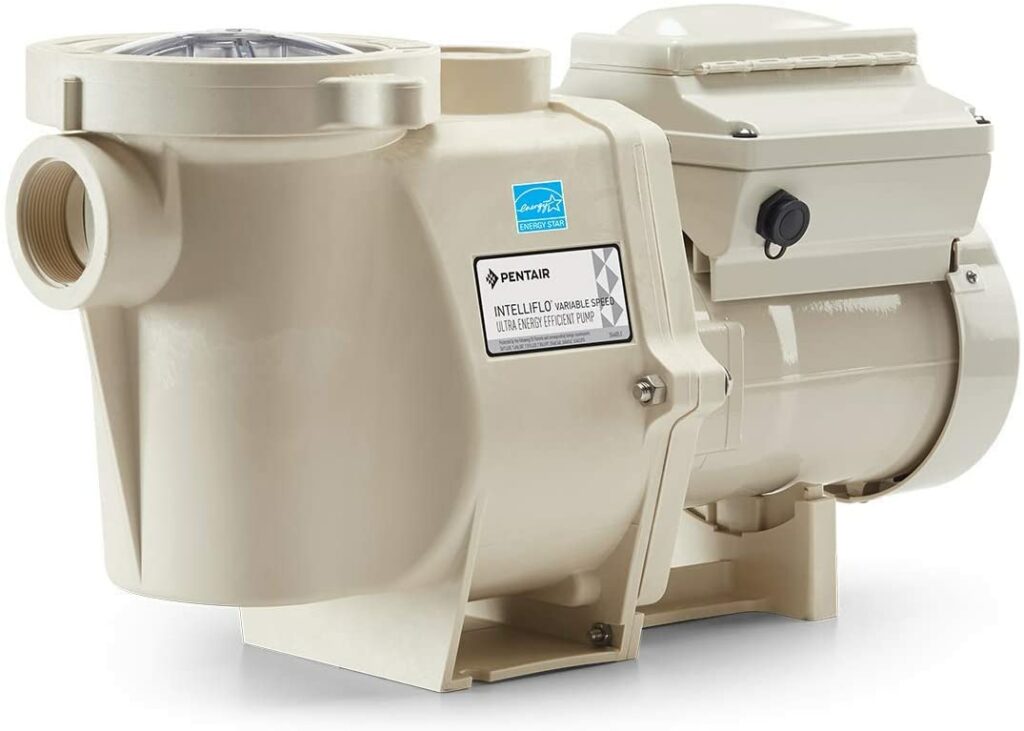 The next on the list is the Pentair Intelliflo variable speed pool pump. It is highly programmable and quite useful. We even wrote a blog on programming a Pentair Intelliflo variable speed pool pump, and it is pretty straightforward. 
The Intelliflo is the most saleable variable speed pool pump from Pentair. The reason behind this is maybe because it has the next-generation technology of Pentair for its variable speed pool pumps.
It has a user interface with its automation, easy-to-use menu instructions, rotating control keypad, and many more. The Pentair Intelliflo also has an 8-speed setting that you can choose from, along with its built-in timer.
Pentair SuperFlo® VS Variable Speed Pump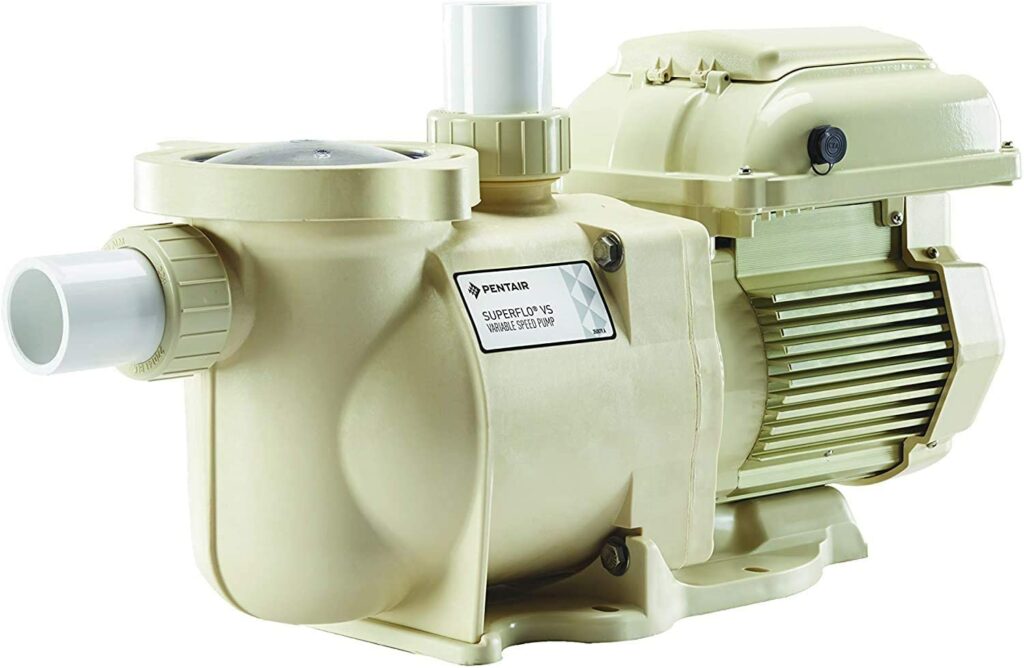 Another Pentair product you will want to own is the Pentair Superflo VS. It has a simple feature that makes it easy to program and operate. The Pentair Superflo VS is the best variable pool pump for standard swimming pools that requires a 1.5 HP pump. 
This Pentair product offers three operating speed settings and the capability to override. Installation is also easy if you choose the Pentair Superflo VS as its electrical connections are very easy to access. 
Hayward TriStar® VS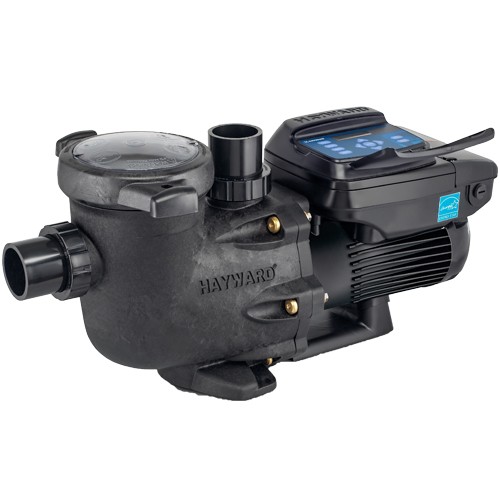 Another excellent variable speed pump to consider is the Hayward Tristar VS. It has a pretty simple feature that makes it easy to program. It also has a touch panel that makes it very easy to navigate and operate the settings. 
Moreover, it is one of the variable speed pool pumps in the market that offers pool owners great energy-saving benefits. It is designed to service medium to large swimming pools and can help you save up to 90% in energy consumption.
Takeaway
As you can see in this article, there are many valid reasons why people should upgrade their pool pump to a variable pump. However, if you are still running your pool with a single or double-speed pool pump, then it is best to upgrade and enjoy the perks of owning a VS pump.